It's pretty obvious I like lighthouses - visiting them, taking pictures of them, stitching them. The whole thing started with my husband's family's annual trips to the Outer Banks while he was growing up. Every year, his family vacationed in Buxton, NC, home of the
Cape Hatteras lighthouse
. And every year, he and his family would visit the lighthouse and climb it if it was open. When we started dating, I went on vacation with the family, and visited the lighthouse myself.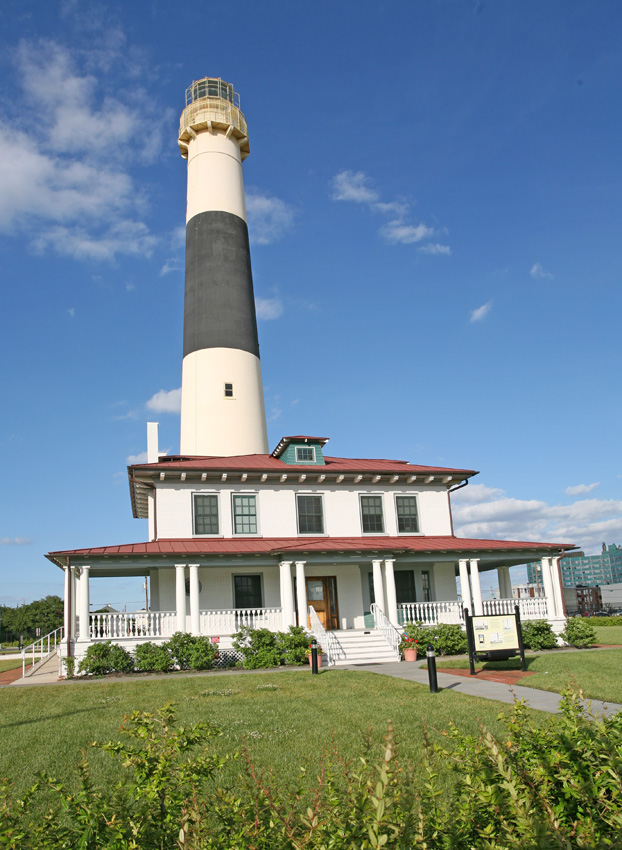 Later, shortly before we were married, we were looking for something to do one weekend when my then boyfriend suggested a visit to the
Absecon Lighthouse
in NJ. No reason - just something to do on a weekend. So off we went to visit (and climb!) Absecon, which is next door to Atlantic City's casinos. We have little interest in casinos, but that weekend jaunt led us to pick up a
Lighthouse Passport
. Basically, the passport is a small booklet for collecting stamps at participating sites in the program - mostly lighthouses, but a few lifesaving stations and museums participate as well. When you fill up a passport with 60 stamps, you send it off to the Lighthouse Society and they send you a patch (and your booklet).
This started a project for my husband and I, and we began to look for opportunities to visit various lighthouses. We structured our honeymoon around a return trip to Hatteras to revisit our old friend, and several other lighthouses in the area. We did a spur of the moment long weekend over 4th of July one year, starting in upstate New York and worked our way along the Great Lakes through Niagara and down to Presque Isle. And we also participated in multiple lighthouse challenges in New Jersey, Maryland and New York. If you are interested in lighthouses and live within driving distance of any of these challenges, I highly recommend checking them out. We always have a good time and it's a great way to spend a weekend:
You can also check out
The Lighthouse Hunters
, who have information on additional challenges in Maine, Florida and Canada.
Soooo........... what is the point of all my yammering about lighthouses? In early December, I was the recipient of a large envelope stuffed to bursting with the amazing array of charts you see here, all of them lighthouse themed.
My wonderful friend Linda at
Taxing Stitches
gifted me with these charts. I was absolutely overwhelmed as I opened the envelope and started pulling out chart after chart after chart of lighthouses. Linda had been going through her stash and said she immediately thought of me when she started pulling these out. She knew I had an interest in lighthouses, and remembered that both my husband and I stitch. He's stitched several lighthouses, and I know he was eyeing up a few charts in this collection as well. I am looking forward to picking a few of these charts and stitching on them over the summer (I have a few spring weddings I am stitching larger pieces for).
I am a terrible slacker for waiting so long to thank her publicly (though I did thank her profusely in private). Once again, THANK YOU, Linda! Your generosity has overwhelmed me and touched my heart.