So I was reading
Meari's
blog, and discovered there was a Blog Hop going on! Loretta over at
Stitching the Night Away
is hosting the blog hop, and if you were wondering what a blog hop is, here's how Loretta explains it:
The idea here is to pick a topic, sometimes a specific question, everyone will blog about the topic and then come back here and enter a link to their blog post in the link widget on the current post. That way everyone can check out the participating blogs, meet new blog friends, and comment on each other's work, etcetera.
Now, I'm a little late to the party - the other stitchers are already on question nine, but hey, better late than never, right? I figure I'll start with question nine, then work backwards (and forwards). And away we go.
Question #9: What are your must-have stitching tools and aides? Other than your trusty scissors, of course. Is there a problem you have had when stitching that you created your own solution for, or have you purchased a tool that helped?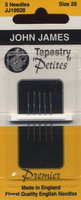 My must haves include at least a dozen John James petite 28 needles, usually purchased in packets of 50 from
Anita's Little Stitches
. I like to thread up a few needles at a time so that when I get in a rhythm while stitching, I don't have to break it by taking time to thread new needles. If I'm working with 2 strands, I'll thread up 3 needles of the same color, and stitch as much as I can of that color to use up the needles. I have been known to stick the threaded needles back into the pack, but I do that mostly when traveling. At home, I use a biscornu I stitched as a pincushion.
Another must have when working with metallic threads is Thread Heaven. Occasionally I'll use it on cotton threads, but for some reason, I find it makes them tangle up more than usual. I generally only use it for metallics as I find it makes them SO much easier to stitch with.
I am, in general, a fairly organized person, and I have two items that help me keep my stitching organized. (These tools are just for the act of stitching - we won't talk about my obsessive excel spreadsheets or my underbed storage boxes, at least not in this post). Since I occasionally suffer from a short attention span, I like to have a few projects kitted up and within easy reach of my stitching chair. I also have a 3 year old, so I need something that allows me to put things away quickly out of his reach. For this, I use a
Vera Bradley Little Travel Case
. I've been using mine for several year - they're hard to find now as this is a discontinued design, but you can still find them being sold on eBay. If you do come across one at a good price, it's very handy to have. It zips around 3 sides, has a few mesh pockets inside for holding the aforementioned bags of needles and thread heaven and leaves plenty of room for my kitted up charts.
square Rubbermaid container
to contain my scissors, pincushion, needles and other stitching bits while I'm working. I don't have to worry about my scissors falling off the table, and when I need to put it away, I snap on the lid.
As an added bonus, I don't have to worry about my scissors accidentally putting a hole through my fabric or in my Vera bag. (I have yet to find a good sheath for my scissors)
.
Another kitchen product that comes in handy are snack size ziploc bags. I am a fan of winding threads on bobbins, but my husband (also a stitcher) is not - he doesn't like the kinks in the threads when he unwinds them to use. We looked at the baggie systems put out specifically for stitchers and decided instead of paying extra for that, we'd just use what we already had - the snack size bags. They work out GREAT - colors are sorted out, easy to access, and no kinking involved. We'll leave either the DMC color band with the number on it, or if using an overdyed, the color card, right in the bag with the thread.
And if the chart happens to be a freebie or a chart I've modified in PC Stitch and printed, the page protectors make it very easy to file the chart in one of my 3 ring binders when I'm finished stitching. If I ever want to stitch the chart again, it's already printed - no wasting paper printing it up again.
So these are my slightly unconventional, but highly useful, tips and tools for stitching. Be sure to make the rounds and see what the other participants have to offer - who knows? You might find the perfect solution to a problem that's been a thorn in your side!